CLEE VALLEY RAILWAY Scale: 7mm - 1ft. Gauge 9mm ('09' ) by Peter Leadley
Size: 10ft 6ins x 3ft 4ins (plus operator space), Operators:Two, Transport: One car.
The layout represents a miniature railway somewhere in England in 2005/6. Obviously a tourist attraction and, although not based on a particular location, tries to be representative of the 38 - 15inch gauge miniature railways in the UK. The track is Peco 009 mainline track with the 14 inch mainline points. These are operated by wire in the tube in the scenic section although the 'fiddle yard' points are operated by SEEP point motors. The track is laid on thin cork, to give a ballast shoulder and then ballasted with fine ballast. The scenery is the usual mix of scatters from various manufacturers on top of polystyrene foam and 'Mod Roc' to get the various contours.
The main buildings are scratch built using a thick plastic and embossed plasticard and while not based on prototypes those who have visited Hoveton (Wroxham) on the Bure Valley Railway, may spot some similarity with the station buildings. The hut by the turntable is a kit from Unit Models, the turntable being a modified Peco 'N' gauge model.
Rolling stock is a mix of scratch and kit built items as there is no ready to run stock available in this scale/gauge, although more kits are becoming available from the likes of Unit Models, Avalon and Miniature Gauge Models; with a recent additions to the list of suppliers in the shape of Finelines and A1 Models. All stock is fitted with B&B 3mm couplings to allow for uncoupling in the station area. Trains can be up to 5 coaches in length, usually in rakes of 4,but do vary depending on what is pulling them and what is set up in the fiddle yard. People are from various manufacturers and are both white metal and plastic.
09 modelling while in its infancy, is becoming more popular and with the advent of 3D printing more kits etc are becoming available.
Ref: Railway Modeller December 2014
See also the owners website: www.petersmodels.co.uk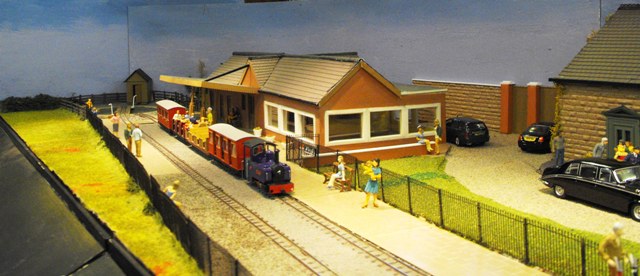 Over view of a train in the station
| | |
| --- | --- |
| | |
| Bonnie Dundee passing the shed on its way to the satation | Janette waiting to leave with a train once the incoming train arrives on platform 2 |
| | |
| The small diesel waiting to depart from Castle Station | A group of holiday makers staying in the caravan next to the railway |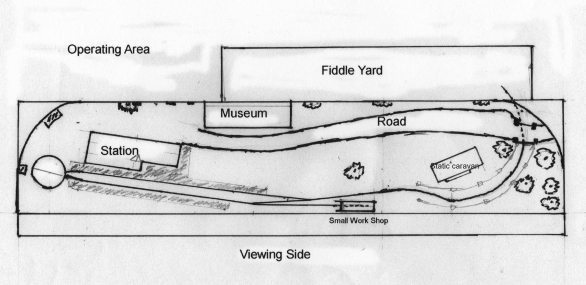 This layout can be seen at the following Shows:
page updated 20/05/2017