MIDDLESEA Scale 4mm - 1ft. Gauge 16.5mm( '00') by John Brien
Size 29ft x 2ft (8.7m x 0.6m) (plus operator space), Operators: Four, Transport: Van hire + one car.
Middlesea is a 4mm/1ft scale 00 gauge layout based on British Railways Southern Region on the Hampshire Coast in 1962. It is a terminus to fiddle yard layout with 5 scenic and 2 hidden boards all but one of which are 4ft long. The concept started based on Swanage and then went through Seaford, St Ives, Littlehampton and Cleethorpes before settling on a mixture of Bexhill West and Pwllheli, with a little corner of St Erith. The ide was to be able to run trains of a reasonable length so the platforms are long enough to take seven or eight coaches. There is also a small goods yard and the seaside location gives the excuse of a harbour branch, so vanloads of Guernsey tomatoes or similar can arrive between the passenger services. The stock is is based on what was around the Hampshire area in 1962 so trains are as near as I can manage to what might have run. Peco track is used with mainly ready to run rolling stock but with several modifications as well as kit-built locos and stock along with all kinds of methods of making buildings and scenery. The overall effect that hopefully has been achieved is that of a seaside resort with everything that you loved about holidays in the 60s: sun, sand, sea and steam.
The name Middlesea comes from my other hobby which is music. There are quite a lot of other musical references and puns – pop, rock, classical even theory - at various locations which viewers are welcome to spot.
Please note that this layout is currently undergoing refurbishment and is therefore not currently available for exhibitions. Please watch this site for further information.
Ref: Railway Modeller November 2002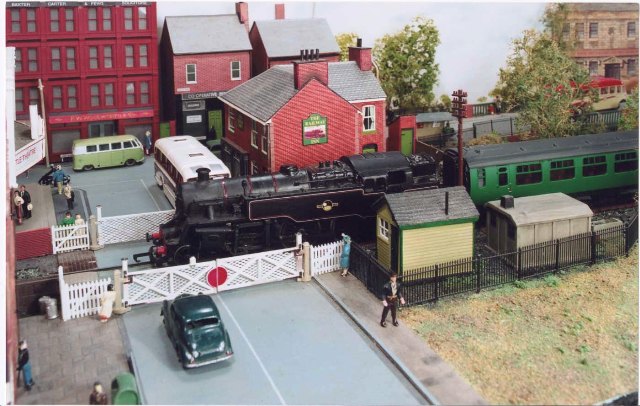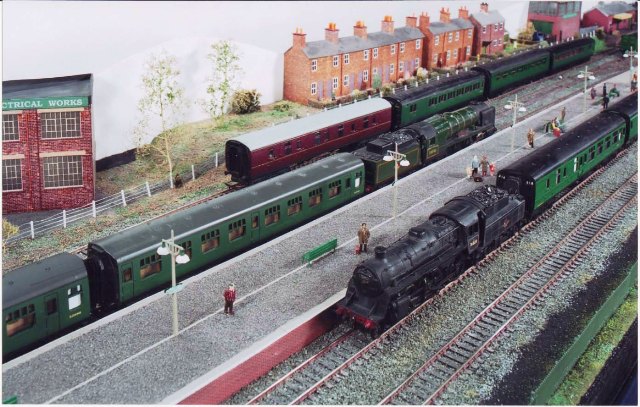 This layout can be seen at the following Model Railway Shows: