MOORTON BOTTOM YARD Scale 4mm - 1ft. Gauge 9mm ('009') by Paul Windle
Size: 5ft x 1ft 8ins (1.5m x 0.5m) (plus operator space). Operators: Three (normally).Transport: One car.
Around the back alleys of Moorton meanders 'the tramway', linking the various stations together. From this a short branch connects to the Moorton Canal, where an interchange for stone traffic was created, below street level, at the town basin.To reach the warehouses, at street level, it was necessary to construct a hydraulic wagon lift.
By the mid 1930s, when the model is set, the stone traffic has ceased. However, the warehouses served by 'Bottom Yard' still provide some traffic for the tramway.
As the track layout is very restricted by the small site, several short trains visit each day delivering coal and raw materials as well as finished goods for transfer tp road transport at street level. The yard is also used for staorage of spare rolling stock, some of which, in true narrow gauge tradition, has not moved for years!
Generally traffic is handled by the Roth Valley Tramway's Sharp Stewart tram locomotives, although various internal combustion 'contraptions' appear from time to time .Also, completely illegally, non-tramway fitted steam locomotives sometimes negotiate the tramway (when the local bobby is not looking!).
Cramped little goods yards were once a common feature of urban railways, but are now just a memory. Perhaps you remember seeing such a scene; if so, we hope will enjoy our representation of the past.
Ref: Railway Modeller May 2007.
| | |
| --- | --- |
| | |
| Petrol loco No. 1 on a rare visit | The Baguley petrok loco waits 'upstairs' for a wagon of coal to ascend from canal level |
| | |
| The Sentinel heads for Regent's with more of those mysterious crates | 'Sciddaw' takes water before departing with empty stock in this long view up the yard |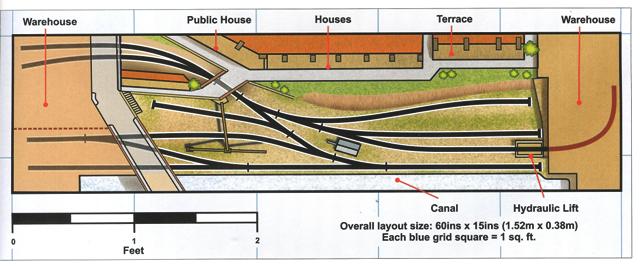 Pictures courtesy of Railway Modeller
This layout can be seen at the following Model Railway Shows:
20th &21st January 2018: Canterbury
page updated 2nd November 2017